This article may be sponsored or include a provided product or affiliate link. See footer and Affiliate Disclaimer for full details.
In world terms, Kuala Lumpur is a relatively affordable place to visit, but compared to the rest of Southeast Asia it is expensive. Especially many tourist attractions are overpriced.
Look:
Here are 9 things that you can do for free in Kuala Lumpur.
1. Merdeka Square

The Merdeka square, also called Independence Square or Dataran Merdeka is situated in the center of Kuala Lumpur and is an important place in the history of Malaysia.
The 100 metre-high flagpole marks the place where the Malayan Flag was hoisted on August 31, 1957 when Malaysia got independent from British rule. Around the square are buldings like the Sultan Abdul Samad Building, the Royal Selangor Club and the National Histroy Museum.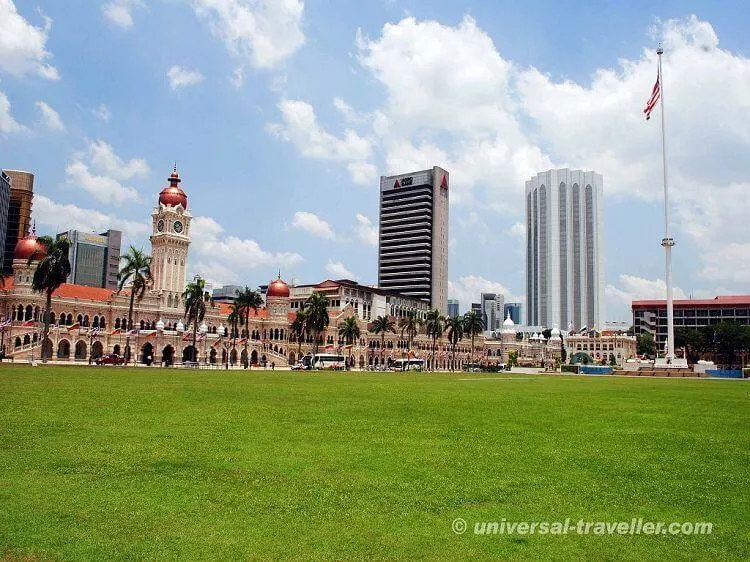 Related Posts:
Chinatown is a colourful area in Kuala Lumpur, well-known as bargain hunter's paradise. The streets are filled with countless stalls offering everything from clothes, shoes, bags, all sort of Chinese herbs to souvenirs and many more.
At night, the main market area transforms into a night market. Beside shopping it is a nice place for a cheap breakfast and a good place to have some drinks in the night. Not far away from the nightmarket is also a good Reggae Bar.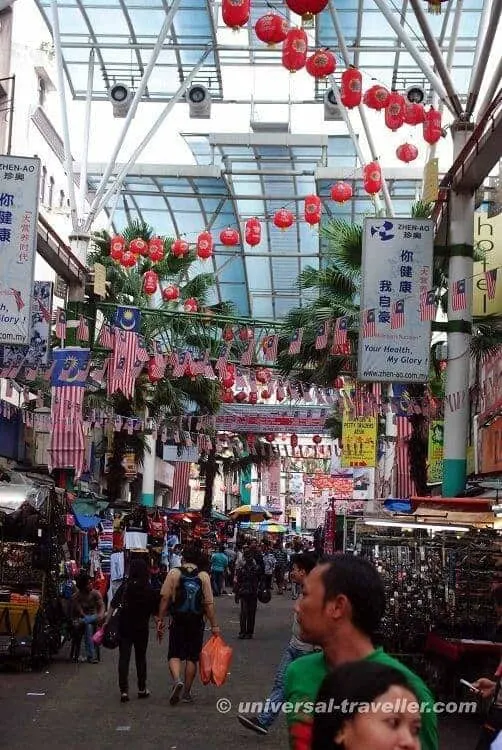 3. Little India
When you want to taste Indian food like Samosa or want to discover Indian sounds and scents, Little India is the place to go.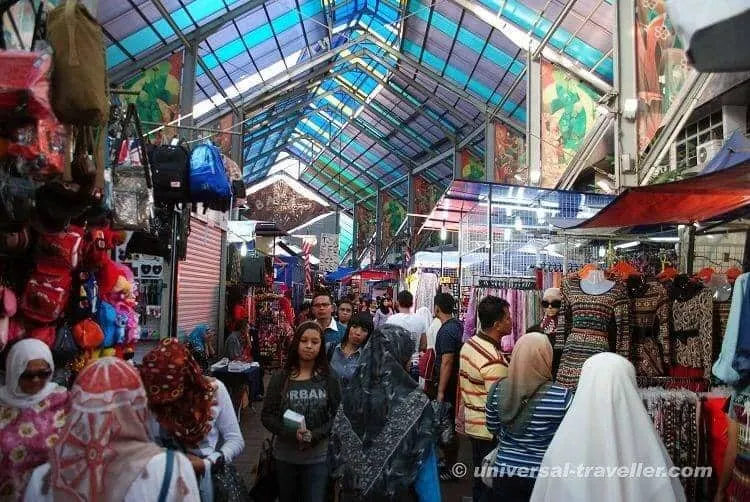 4. Petronas Tower
The Petronas Towers in Kuala Lumpur are with 452 meters the tallest twin towers in the world. Not only the high but also the architectural design is incredible, especially at night when the towers are illuminated.
When you are in Kuala Lumpur you should definitely go to the cities most famous landmark. Unfortuantely, it is not free anymore to visit the observation deck. However from the square in front of the tower or from the KLCC Park you can take nice photos and it is still worth it to go there.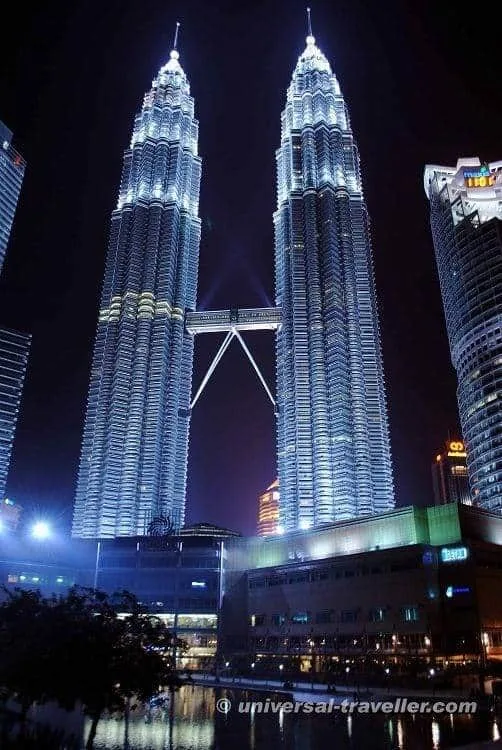 5. National Mosque
The National Mosque of Malaysia is located in Kuala Lumpur close to the Lake Gardens just opposite the old Kuala Lumpur Railway Station. With a 73 meters high minaret and a capacity of 15.ooo people it is one of the largest mosques in whole Asia. It was built in 1965 as a symbol of Malaysia's recently won independence.
The Design is ultra modern with reflecting pools and fountains. I have already visited several mosques during my travels in many different countries, however this mosque in Kuala Lumpur is so far my favourite one.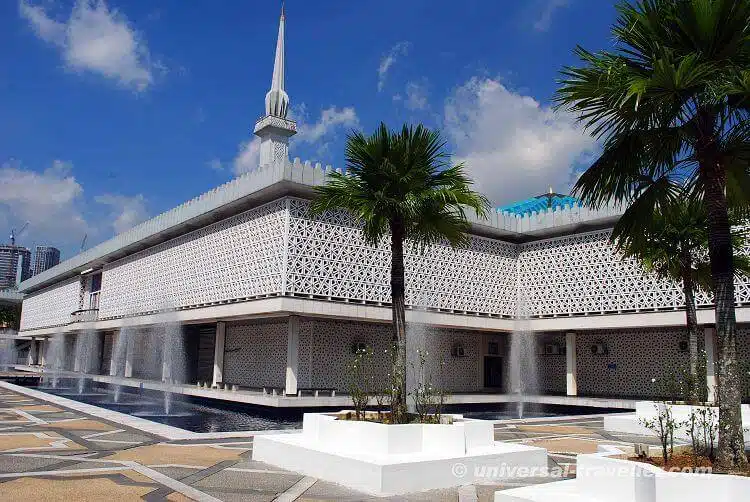 6. Batu Caves
The Batu Caves are situated 13 kilometers north of Kuala Lumpur. They are one of the the most important sanctuary for Hindus in Malaysia and consist of three main and several smaller caves. The Batu caves are 400 meter long, 100 meter high and about 400 years old. They are also famous for its lively inhabitants, monkeys, who will accompany you during the way up over 272 stairs.
The easiest way to get to the caves is by train. From the Central Station in Kuala Lumpur you can take the KTM commuter train to the Sentul Station which takes about half an hour. The entrance to the caves is free and they are open daily from 6am to 9pm.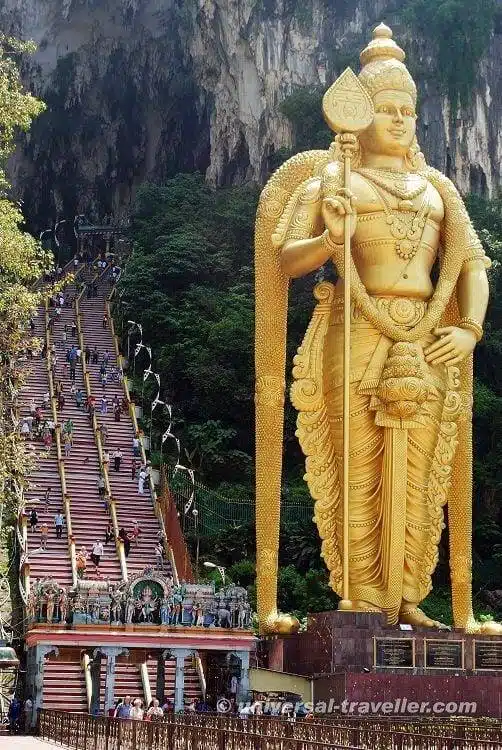 7. National Monument
The National Monument is one of my favourite places in Kuala Lumpur. It is a sculpture which was built to remember the soldiers who died fighting for the intependence of Malaysia. It is also the tallest freestanding group of bronze sculptures.
The Monument is surrounded by water and several fontains. As it is located on a small hill you have a nice view with the fontains and the city in the background. I really enjoyed sitting here and to rest a while before I continued discovering Kuala Lumpur.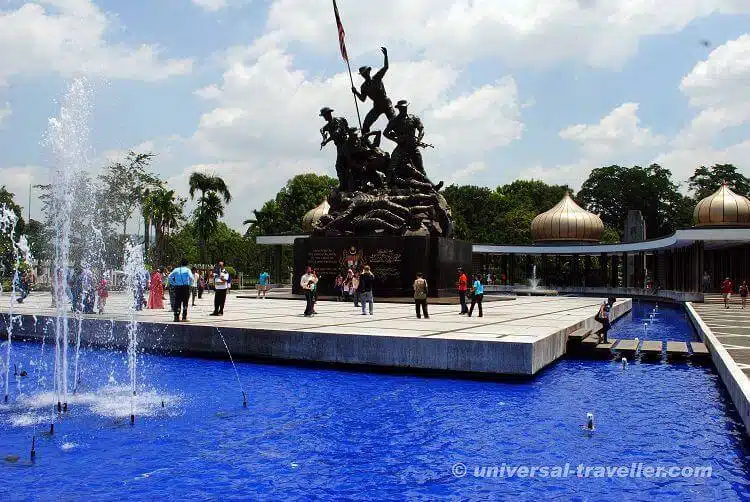 8. Central Market
The central market is located in an old bulding called the Pasar Seni. Here you can buy locally made handicraft, batik, songket, wood carvings, souvenirs, accessories or get some food at one of the many eating places.
9. Lake Gardens
The Lake Gardens are located right in the city of Kuala Lumpur next to famous landmarks like the National Mosque and the Islamic Art Museum. The Garden integrates a Butterfly Park, Bird Park, Orchid Garden, Hibiscus Garden, the National Monument and the Deer Park.
Logistics
Cheap Flights:
My top choice is kayak.com. You can easily search for the best fares over 30 days or see where you can go on your budget. My favorite airline is Qatar Airways, I especially like the on-demand menu in Business Class.
Hotel Deals:
I would recommend checking out Agoda.com. It is one of the leading hotel sites with worldwide more than 500,000 hotels. Other sites I check are Booking.com and Expedia. Trusted Housesitters connects you with home and pet owners who need a sitter when going away. Another great option is Airbnb – Use this link to get $40 off your first stay. Visit TripAdvisor for hotel reviews.
Car Rental & Day Tours
Rentalcars compares 900 companies at over 53,000 location to guarantee you the best price. Get Your Guide helps you to find the best tours wherever you are heading to.
More Malaysia Internet Resources:
2. Kuala Lumpur Itinerary – How to spend 2 days in the crazy Malaysian Capital
Are you on Pinterest? Pin this!

This post is also available in:
German