This article may be sponsored or include a provided product or affiliate link. See footer and Affiliate Disclaimer for full details.
Although Singapore is the most expensive city in South-East Asia, seeing it doesn't have to be expensive.
14 Things to do for Free in Singapore.
1. Merlion Park
The Merlion is the symbol of Singapore. The original statue is located in the Merlion park which is a popular tourist attraction. The statue is 8.6 meters high and is spouting water in the Marina Bay.
2. Gardens by the Bay
The Gardens by the Bay extend over 101 hectares and houses more than 250 thousand plants. In the gardens you will find 16 Supertrees that are connected by a 128 meter long walkway. The entrance to the garden is for free, when you want to go up on the walkway you however have to pay 5 SGD.
Related Posts: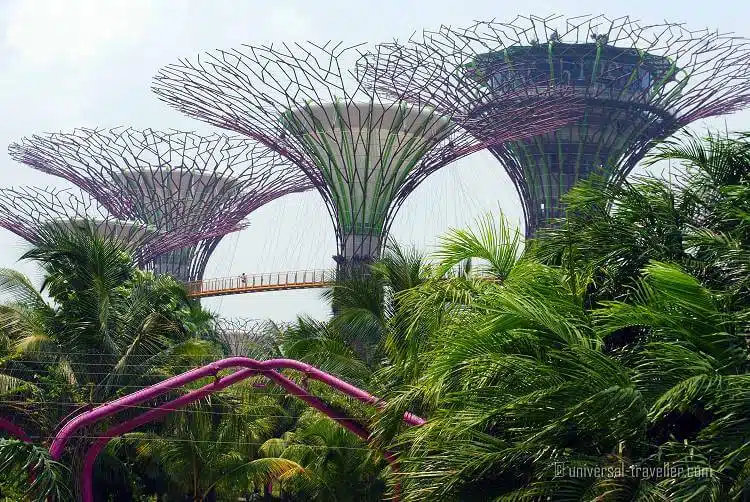 3. Botanic Garden
The Botanic Garden is a nice place to escape from the hustle of the city. Within the area is the National Orchid Garden with a huge array of various orchids. The Entrance to the Botanic Garden is for free, for the Orchif Garden adults have to pay 5 SGD, students 1 SGD and children below 12 years have free entree.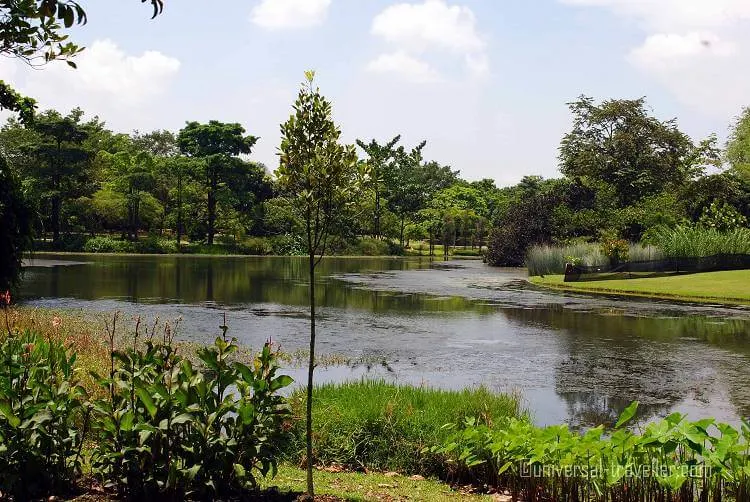 4. China Town
China Town is the original location of Chinese settlement in Singapore. You can find many small shops and cheap places to eat. It is the center of Chinese culture with several temples.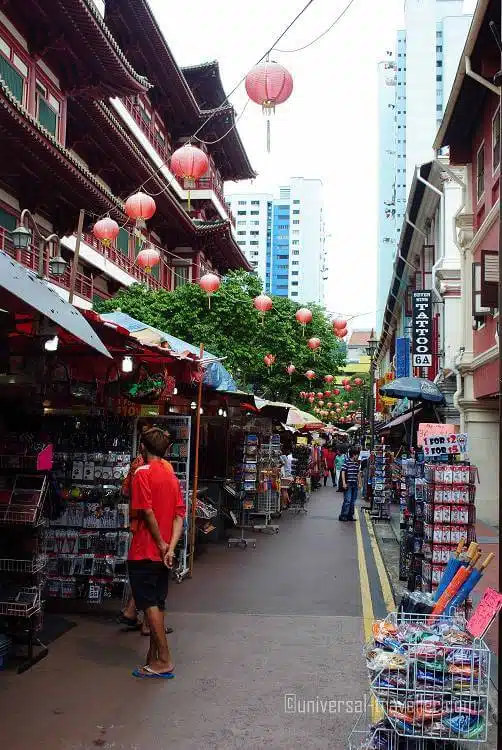 5. Little India
In little India you can find many small shops selling flowers, spices, massage oils or fabrics. It is also a good place to eat traditional Indian food for small money.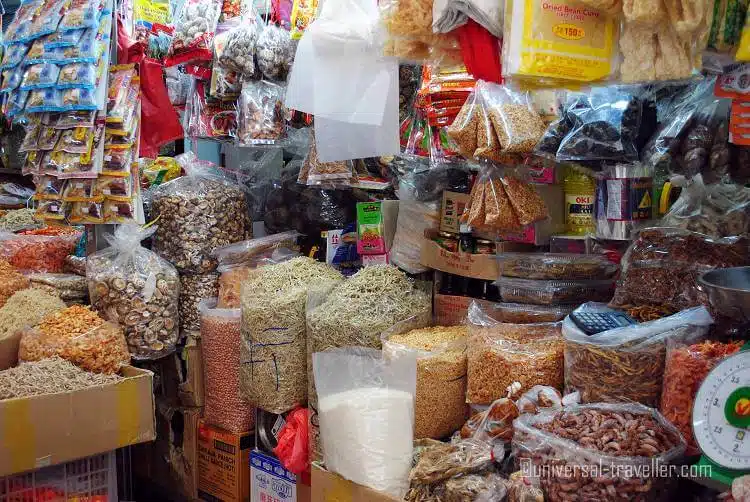 6. Light & Watershow Marina Bay
The Marina Bay Light & Watershow combines five elements: water, light, fire, audio and video. The show takes fifteen minutes in which the story of a man's journey to life is shown. Photos and videos are projected on water fontains and music and laser light create a nice atmosphere.
The show takes every day place at 8pm and 9:30pm. On Friday and Saturday there is an additonal show at 11pm.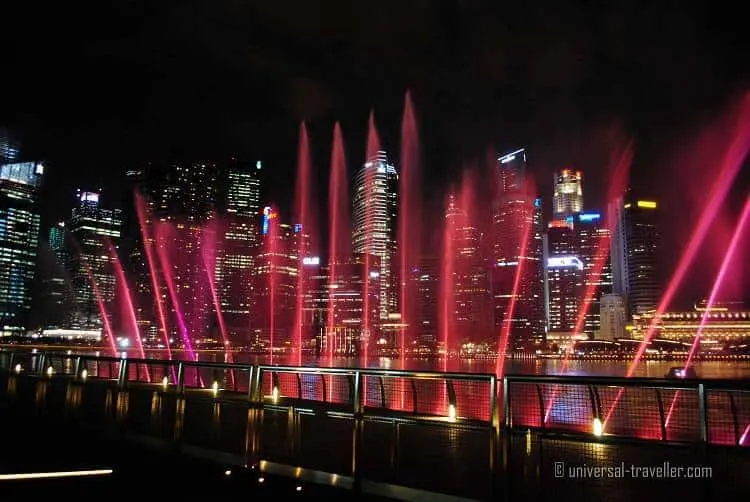 7. Lightshow Gardens by the Bay
The Lightshow in the Gardens by the Bay takes every day place at 7:45pm.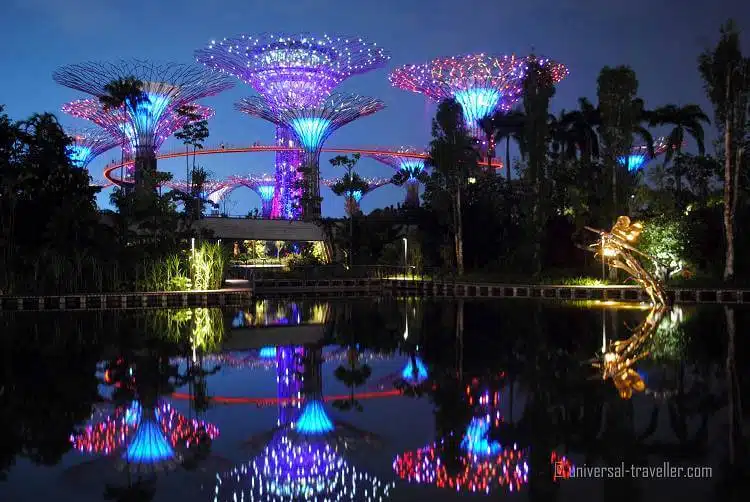 8. Haw par Villa
Haw Par Villa is a theme park in Singapore with more than 1.000 statues and 150 dioramas inspired from Chinese folklore, history and mythology.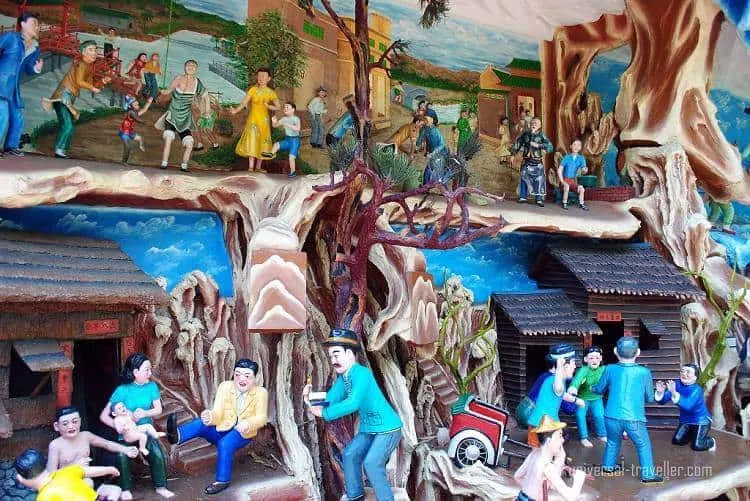 9. Vivocity
Vivocity is the largest mall in Singapore. On the roof, there is a landscaped area with a nice view on Sentosa Island.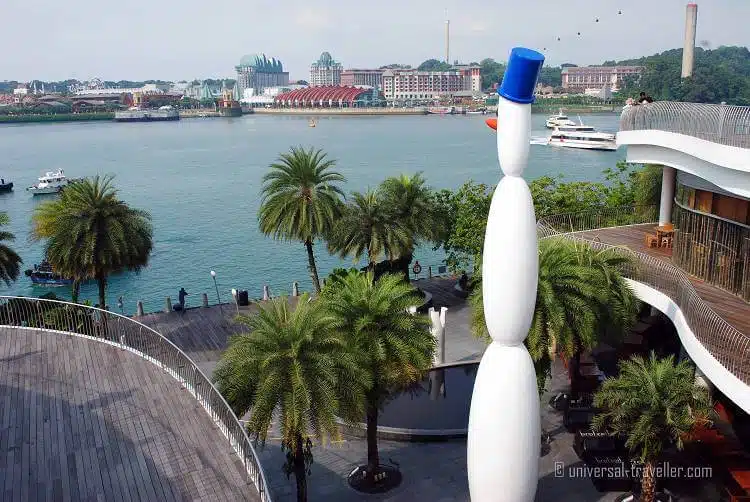 10. Temple Hopping
One popular temple in Singapore is the Buddha Tooth Relic Temple in China Town. It is based on the Tang Dynasty architectural style.
Further temples are the Burmese Buddhist Temple, the Sri Krishnan Temple and the Sri Mariamman Temple which is Singapore's oldest Hindu temple.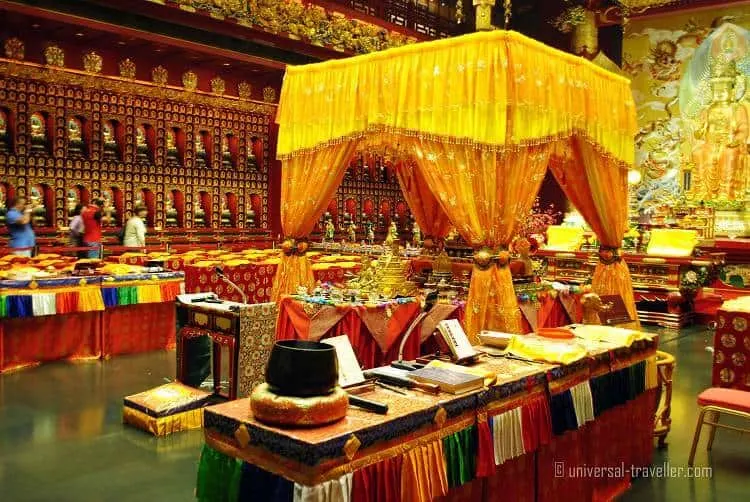 11. Marina Bay

If you want to visit the Marina Bay Sands Skypark, adults have to pay 20 SGD and children between 2 and 12 14 SGD. When you however go up to the Skybar, you only have to pay for your drink. From the bar you can see the famous Infinity Pool and enjoy an awesome view over Singapore and Marina Bay.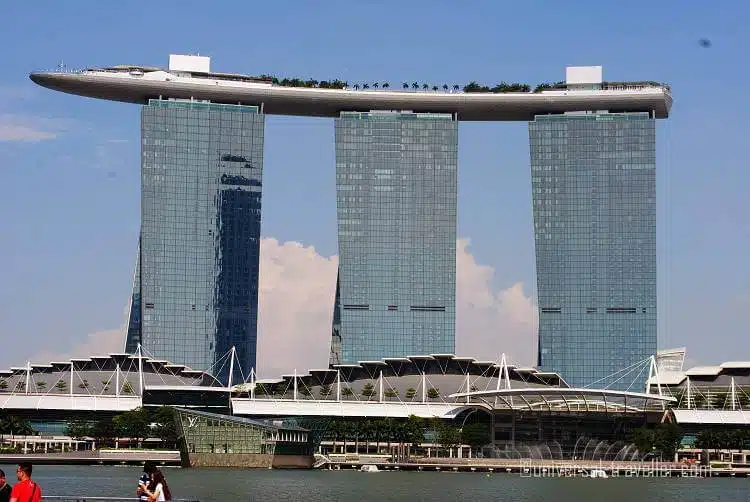 12. Maria Bay Boardwalk

Marina Bay area is developing into a popular and modern tourism hotspot. The Boardwalk is predestinated for long walks or jogging. It offers a variety of restaurants, bars, clubs and shops.
The photo is taken in the Shoppes at Marina Bay Sands, a huge Shopping Mall.
13. Free Walking Tour
If you do not want to discover Singapore on your own, you can join one of the free walking tours by Singapore Footprints. It is a group of young and enthusiastic students who provide fun, interactive and experiential tours.
14. Marina Bay City Gallery
The City Gallery is located on the waterfront of Marina Bay. You can inform yourself about the latest developments in Singapore and current plans. A city model gives you an overview over Marina Bay and provides information about the different buildings and landmarks. An interactive timeline that goes back to 1800s shows you the development of Marina Bay.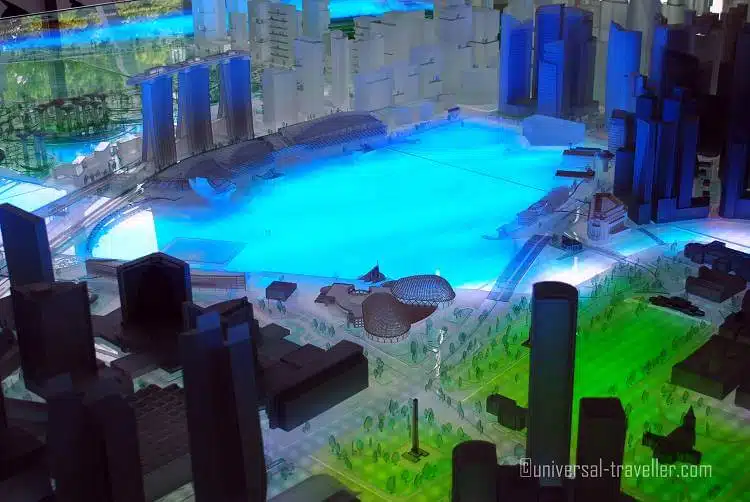 Logistics
Cheap Flights:
My top choice is kayak.com. You can easily search for the best fares over 30 days or see where you can go on your budget. My favorite airline is Qatar Airways, I especially like the on-demand menu in Business Class.
Hotel Deals:
I would recommend checking out Agoda.com. It is one of the leading hotel sites with worldwide more than 500,000 hotels. Other sites I check are Booking.com and Expedia. Trusted Housesitters connects you with home and pet owners who need a sitter when going away. Another great option is Airbnb – Use this link to get $40 off your first stay. Visit TripAdvisor for hotel reviews.
Are you on Pinterest? Pin this!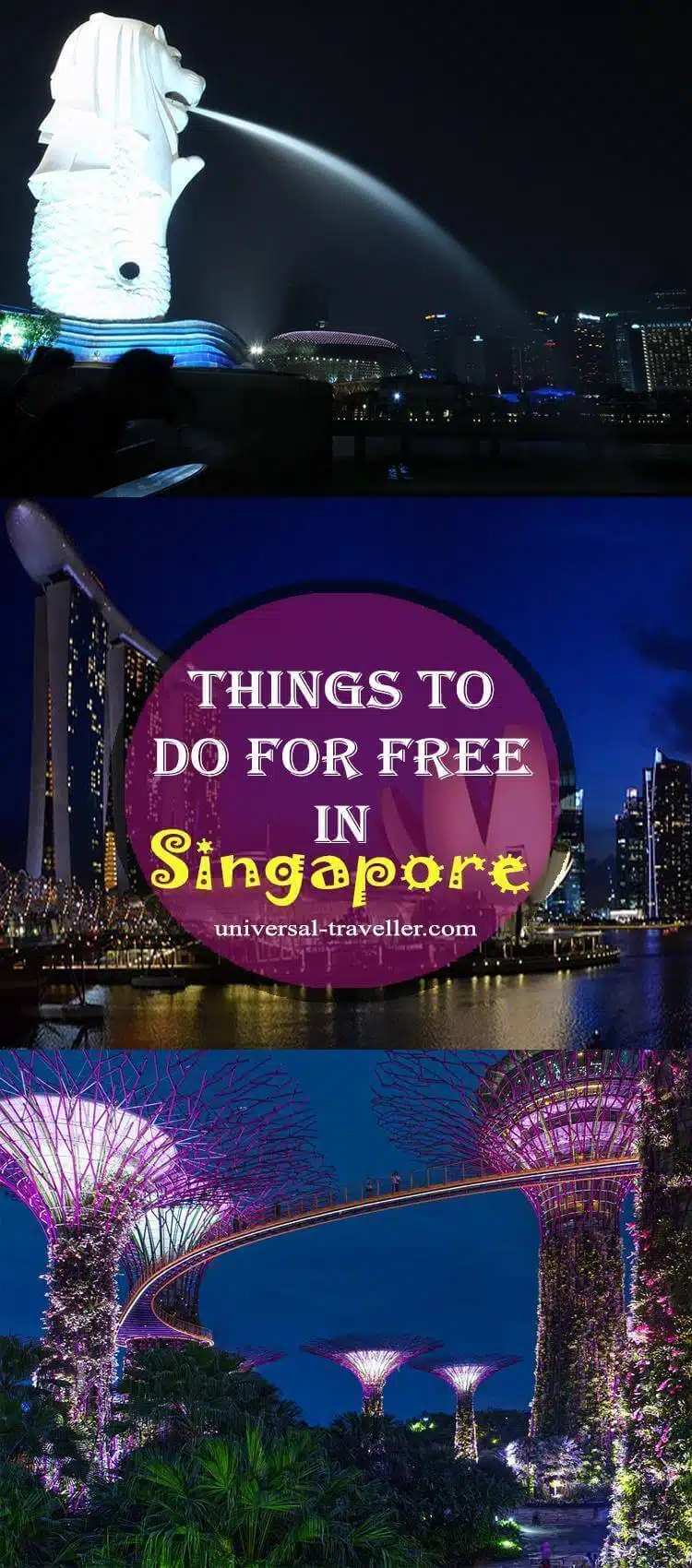 This post is also available in:
German