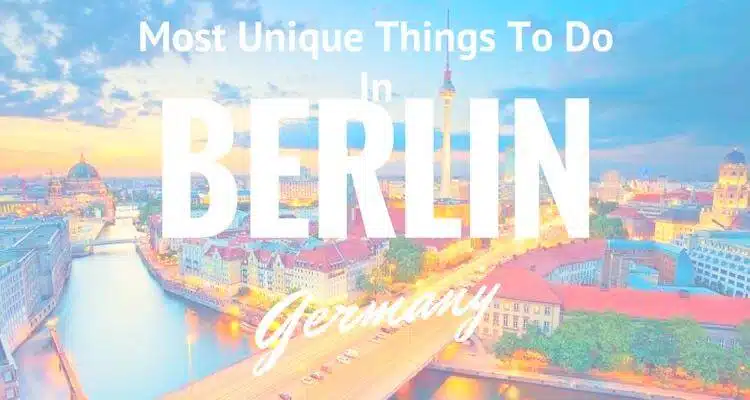 There are diverse beautiful places in Germany that attract numerous tourists every year. However, Berlin is one of the most wonderful places in the world, so you cannot afford to overlook it when visiting this country. The city is a fountain of rich history, culture and modern elements, packaged into an exquisite travel haven. Unfortunately, it is often impossible to visit all the attractions and do all the fun things that the city can offer. However, there are some awesome Berlin experiences that you cannot afford to miss. Here is a short outline of the most unique things to do in Berlin.
1. Take an Underground Tour
While the city of Berlin has great obvious above-ground attractions, you will also find some unique underground sights. Therefore, you should plan to take an underground tour during your visit. Basically, there are extensive networks of architecture in the subterranean part of the land. People can tour through these sections courtesy of the Berliner Unterwelten, a non-profit organization. This society works to ensure that these hidden spaces are open for viewing by the public. The tour includes the Gesundbrunnen underground train station, numerous bunkers and civilian shelters.
2. Experience the Topography of Terror
The Topography of Terror is more than a museum; it is a learning experience. This center is considered to be one of the most fascinating places in Berlin to visit, even though it is relatively new. The museum is built on the space that was once the home to the Gestapo and the headquarters of SS. Within, you will find thorough documentation of the country and its situation when repressed by the National Socialist government. It is the perfect alternative if you are not into the more mainstream museums.
3. Visit Tropical Islands
If you are a nature enthusiast, then you should plan to see Tropical Islands. The attraction is not per se in Berlin; it is located in between Berlin and Dresden. Simply, the site was originally a field where the Nazi trained pilots and planned to further research on the blimp. The project that was started there failed, a Malaysian entrepreneur is known as Colin Au purchased the land and transformed it into an Eden-like theme park. When visiting this sight you will see a tropical sea, beach, rainforest, Water Park and a restaurant among other things.
4. Take a Walking Tour
Walking tours are fun, and they can help you understand the city better. This is critical if you like exploring new places without a tour guide. There are some free walking tours that you can take, including one presented by New Berlin. This will cover all the basics of the city, and they are led by knowledgeable local experts. The tour starts at the Brandenburg gate follows the wall to the Museum Island and finishes at the old royal gardens.
5. Climb the Reichstag
The Reichstag is one of the beautiful places in the city, and it has rightly gained popularity with regard to the best things to do in Berlin. The building has combined both traditional and contemporary structural elements to present a unique sight. The first structure was built in 1884, but it became desolate during World War II. The structure was restored and a glass dome was added to add an ethereal element. While you have to practice patience and ensure security checks, the climb into the dome and the view is worthwhile.
6. Discover Volkspark Wuhlheide
There are well-known parks in Berlin, including Treptower Park and Mauerpark. However, you should visit Volkspark Wuhlheide for a more peaceful and natural experience. This park consists of open filed and tall trees in a large area, so you can satisfy your wild side by wandering for hours. Moreover, the heart of the park holds a fun recreational spot for children to entertain themselves, that is, FEZ Berlin.
7. Enjoy Clarchens Ballhaus
Clarchens Ballhaus is designed to allow guests to relive the olden days filled with classic European culture. Therefore, if you have always wanted to experience a traditional cabaret, this dance hall is an ideal place to visit. The revitalized center has an in-house band which creates a nostalgic feeling and spacious dance rooms for the guests. It is a romantic spot and you can have dinner in the restaurant downstairs before or after visiting the dance hall.
8. Join the Graffiti Tour
Alternative Berlin organizes a graffiti tour around the city, so it is a great opportunity for you to explore the urban culture in the city. The walking tour is carried out in Kreuzberg, a part of Berlin that has the most graffiti art. The facilitator will provide insight on the work as well as provide general information on street art culture in the city. You will also learn how the community corporate with regard to graffiti and the unspoken rules that the culture to bloom. You can pay a small fee for a graffiti workshop where you will learn the basics of street art.
9. Discover Berlin Nightlife
Berlin has a vibrant nightlife culture, so it is a great city for fans of bars, lounges and clubs. While there are numerous great nightspots, there are some that are unique and will fire you up. Tausend is one of the ideal spots; it is a contemporary space with a dark mood and clean steel and mirror interior. Spindler & Klatt is a riverside nightspot which has an understated glamour for those interested in a great class. The weekend features a rooftop terrace, a sleek bar and a great dance floor for guests, so it is a must-see spot.
10. Taste the Culinary Delights
When it comes to revitalizing your taste buds, Berlin is one of the most wonderful places in the world. There are unique dishes which will help you rediscover the delight of eating again. If you are a fan of exotic food, fruits and vegetables, visit the Turkish Market. There are platforms that allow you to connect with locals for authentic meals such as Bonappetour, so you can explore this option as an alternative to restaurants. Also, try out some popular supper clubs in Berlin if you can manage to get a reservation. Finally, enjoy a drink at the Urban Spree and understand the joys of the outdoor spot.
Conclusion
You should not be afraid to explore quirky and alternative attractions when traveling through Berlin. While mainstream sights and centres have their charm, you will get a more fulfilling experience by opening yourself up to unusual discoveries.
Evans Lily is the founder of SkyWeFly, where I and my associates blog about photographs, stories and travel tips that will help you make a great journey. I hope to bring my passion to more people via SkyWeFly.
Do you already have a hotel in Berlin? Check Agoda* or Booking.com* for the best deals.
Disclaimer: There are affiliate links (*=Affiliate Link) within this article, which help me to travel more often! If you purchase items through these links, I will earn a small commission at no extra cost to you. 
Universal Traveller – Luxury Adventure Travel & Lifestyle